Table and Other Looms
Small Looms
The Rigid Heddle Loom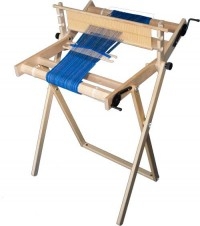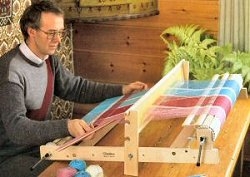 Rigid heddles looms are a fun and easy way to begin weaving. They are inexpensive and it is easy to learn how to weave with a rigid heddle loom. A good choice for a small beginners loom is a rigid heddle loom that is foldable and portable yet wide enough to weave scarves, placemats, bags, table runners or belts. The rigid heddle loom that is best has a strong, positive holding metal ratch with many teeth and brackets that hold the heddle securely. Accessories that you would need to begin weaving with a rigid heddle loom include a shuttle, a warping peg, a heddle eye threader, sley hook and your yarn. Some larger rigid heddle looms have warping frames on the back of the loom frame.
---
The Band Looms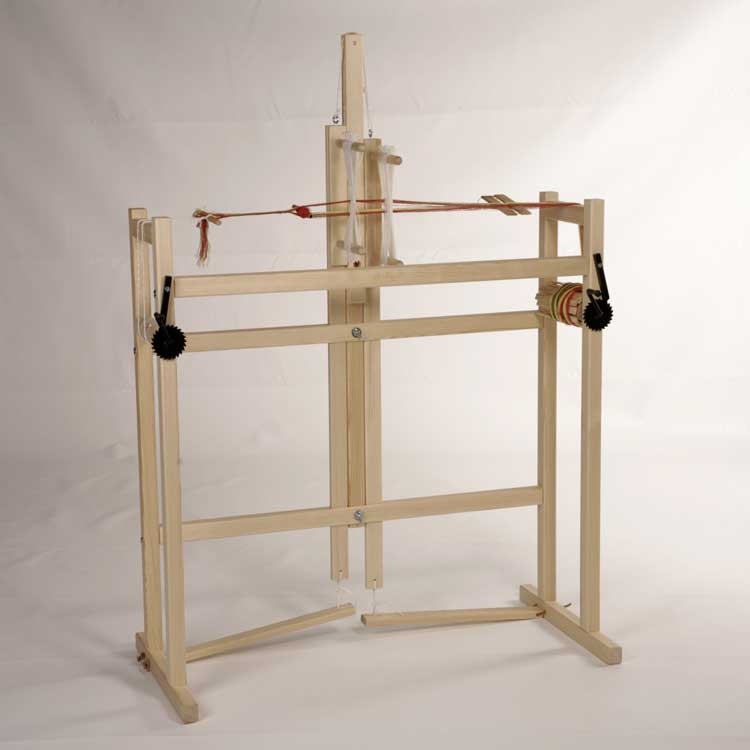 You can weave decorative bands for clothing, hat bands, handles for bags, ribbons, friendship braclets and shoelaces. The band loom in the photo has two treadles which makes band weaving extremely easy and fast.
---
The Tapestry Frame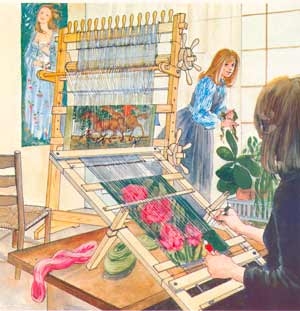 Tapestry weaving allows you to express yourself in color and design. Portable tapestry frame looms allow you to take your weaving with you. A tapestry loom should have a tensioning mechanism to tighten the warp and should have pegs to make winding a warp easy. Tapestry bobbins are a very convenient way to hold the yarn and the tip can be used to beat the yarn into place. Tapestry beaters or forks are also commonly used.
---
Table Looms
Table looms are used for learning as they are portable enough to put into a car to take to a workshop. You can order the legs and treadles to make weaving with a table loom more comfortable. Table looms are a good way to learn to weave, either on your own or by taking them to workshops. They are designed for learning, demonstrating, sampling and for spending time with other weavers at workshops. Table looms are useful for learning to weave if you are not ready to purchase a floor loom.
Table Loom Legs
Adding legs to your table loom allows you to sit while you weave. When you add legs to your table loom, find a bench or stool which is the right height for you. It should be adjustable in height from about 20″ Ė 26″ in height, depending on the height of the breast beam of the loom. See the photo .
Table Loom Treadles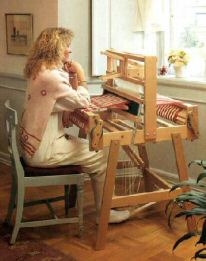 Treadles can be added to a table loom. Having treadles on a table loom makes weaving progress more comfortably and quickly, freeing your hands for the weaving. Having lamms for attaching the treadles gives the advantages of being able to tie up more than one shaft to a treadle, otherwise, you use two feet for treadling. The legs and treadles should be removeable even with a warp on the loom if you want to use the loom as a table loom. This makes it easier to transport the loom and set it up at a workshop. Most table looms with legs can be moved and assembled by one person.
Portability
If you will only weave on the loom at workshops, you rarely will need more than 18″ weaving width. But if you want to weave on the loom at home, or if the table loom will be your only loom, you may want a wider weaving width. When selecting a table loom, donít skimp on the depth of the loom, which should be at least 27″ to 29″ in depth. The depth is necessary to get a good shed, consistent tension and an even beat.
The Castle
The castle should lie nicely inside the frame for packing. Rubber feet on the loom frame will protect the table. The beater should be removable and it should be adjustable for different heights of reeds. The ratchets should be outside the frame so you can easily reach them to advance the warp. If the ratchets are inside the frame, the warp threads may get tangled in the ratchets and the beaming sticks may interfere with the ratchet. Ratchets with large handles are easy to use. They should have at least 16 teeth (more is better) for adjusting the tension.
Levers
The shafts are raised with levers or handles. They should be attached to give you good leverage rather than requiring a direct pull. You should be able to move two levers at the same time if they are beside each other. This makes weaving plain weave and twill much easier. They should be large enough for your hands to hold them. If they are in the center, you can use either your right or left hand, or both, to move them. Levers which are not properly made will not stay in place. Some will lock into place. They should not fall back when you beat in the weft. Levers or handles which are too small and have little leverage can eventually be tiring for your hands. Shaft and heddles Texsolv heddles are light weight, quiet, less abrasive and allow you to have more threads per inch than metal or wire heddles. They are easy to put on the shafts. There usually is no pin in the center of the shaft. If you have further questions about table looms, email me or call 1-866-890-7314