Loom Tie-Ups
For basic information about warping and tying up both counterbalance and countermarch looms, read the files in the introduction to counterbalance and countermarch looms. These files will give you in depth information about setting up and weaving on these looms, including explanations and tie-up diagrams.
Countermarch Tie-up Instructions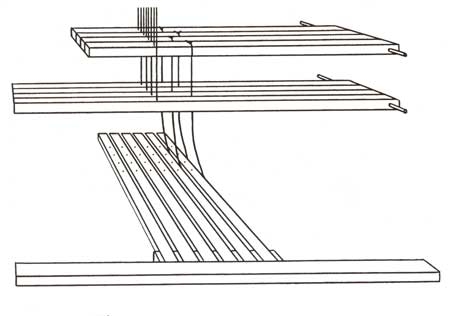 For complete step by step instructions for tying up your countermarch loom, consider ordering a copy of the book, "Tying up the Countermarch Loom", by Joanne Hall. This book includes information about attaching beam cords, assembling shaft holders, assembling shafts, diagrams of the two main types of countermarches, the tying up of lamms and treadles, reading tie-up drafts, tying traditional loom knots, a warp sett chart, a reed chart, metric and English conversions, how to use Texsolv heddles, cords and pins and adjusting loom sheds. Click here for more information about the book.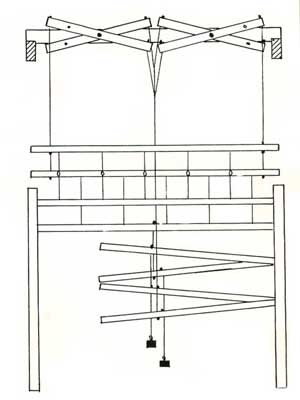 ---
Counterbalance Tie-up Instructions
The book "Tying up the Countermarch Loom" includes information which will help you to make the counterbalance tie-up. You can also ask us for a copy of the the Glimakra Standard and Ideal Loom assembly instructions, which gives counterbalance tie-up instructions. For more complete instructions, including tying up drall pulleys and more than four shafts, ask for a copy of the book, "The Big Book of Weaving", which has extensive tie-up instructions.
Texsolv products are used in these tie-ups. For information about Texsolv tie-up cord and heddles, click here.